Crystal South Surf Camp – Wrightsville Beach
SHARING THE ANCIENT SPORT OF KINGS WITH THE CAROLINAS FOR 20 YEARS!   CALL 910 465 9638 to schedule lessons
The original surf camp in Wrightsville Beach, Crystal South Surf Camp has been helping people from all over the world take their surfing abilities to the next level since 1996. Whether you have never surfed before and have always dreamed of learning or if you want to improve your already existing skills, we offer all of the coaching and instruction you will need in order to reach your fullest potential while staying safe and having the most fun possible!
Through our programs, we will teach you how to surf and how to enjoy every aspect of the ocean. From surf etiquette and ocean safety to coastal ecology and marine life, you will develop  a vast understanding of the ocean and how to enjoy every minute of your time spent in the ocean. Please join the fun this summer and let us share our love of the ocean with you!
The History of Crystal South Surf Camp
Crystal South Surf Camp was established at the south end of Wrightsville Beach, North Carolina, in 1996.Founded by East Coast female surfing legend Jo Pickett, the camp began as a way for residents to provide their children and loved ones with the skills and knowledge that Jo's children were quickly acquiring through her coaching. Since then, new and returning students have sought out Jo and her family to help advance their abilities and their stoke in and out of the ocean. Many students who learn their skills here become instructors for Crystal South Surf Camp and other surf schools. Crystal South Surf Camp builds a world view into the experience of surfing at Wrightsville Beach, while learning to surf in a safe and structured environment with certified instructors.
What Makes Our Surf Camp Different?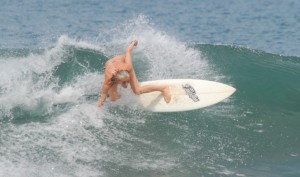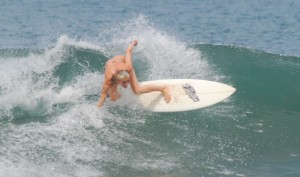 With the abundance of surf camps popping up in most beach communities, it is becoming more and more difficult to choose the perfect ocean experience for yourself or a loved one. As the oldest and longest established surf in Southern North Carolina, we have led the charge in manufacturing stoke for our clients. Through our many years of instruction, we not only meet our clients' expectations, we exceed them both in and out of the water
At Crystal South Surf Camp, we pride ourselves on being the only surf camp in Wrightsville Beach with coaches and instructors who are national and regional surfing champions. Camp founder / owner Jo Pickett continues to compete in the Eastern Surfing Association (since 1977) and directs the Wahine Classic Wrightsville Beach. Airlie Pickett competes on the UNC Wilmington Surf Team, affiliated with the National Scholastic Surfing Association.
We are  also fortunate to have staff instructors who are teachers within our public school system. Our alumni often join us during the summer to instruct, coach, and mentor our students.
Our surf students often join us for more than one week per summer, and return summer after summer to build their surf skills. Crystal South Surf Camp provides the appropriate surfboards during this transition from beginner to intermediate level. Then we go shopping, and choose the best surfboard for you! This is a custom service offered only by Crystal South Surf Camp, and we place a high degree of importance on this service, as we facilitate your continued surfing improvement and enjoyment.
The Future of Crystal South Surf Camp
During this winter of 2016, I am coaching my favorite surf students in Costa Rica during their school holidays. We are building skills and wave knowledge, and using video analysis to measure progress and target specific maneuvers for improvement.
Planning ahead for summer 2016, I will be including a pre-surf warm up / training session, which will be a condensed version of exercises that surfing pros execute to prepare for surfs and contests. I anticipate 20 minutes of high energy exercises that  will be fast paced, designed to improve rotational motion and leg strength, develop compression / extension and shoulder / hip mobility / stability, and improve maneuvers, stance, and positioning on waves or above them!