Crystal South Surf Camp – Wrightsville Beach
Providing Surf Trips, Surf Camps and Surf Lessons since 1996
Come and join Crystal South Surf Camp, the only surf camp with coaches who are national and regional surfing champions and finalists, with instructors who are teachers in our public school system, and even certified to judge surfing contests! You will find more skill and expertise here at Crystal South Surf Camp than anywhere else in this area! As our students master surf skills, they also learn surf etiquette which enhances the safe use of our surf zone, and they develop an understanding of tides, wind, rip currents, and sea life. We roll all of this surf knowledge and coastal ecology, oceanography, and marine science into an action packed surf experience!
The History of Crystal South Surf Camp
Crystal South Surf Camp was established at the south end of Wrightsville Beach, North Carolina, in 1996, in response to residents' requests to teach beginning surfers the skills that my young children were acquiring. Long before surf camps were popular, I developed the method that I use today. I teach this method with instructors who learned to surf with me when they were young, and these instructors have traveled with me to exotic destinations to develop their skills and learn about third world cultures, acquiring language skills along the way. Crystal South Surf Camp builds a world view into the experience of surfing at Wrightsville Beach, while learning to surf in a safe and structured environment with certified instructors.
What Makes Our Surf Camp Different?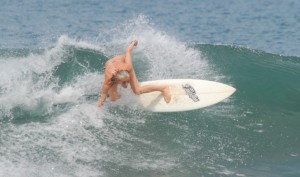 Our mission is to encourage and expand the surf student's comfort zone, challenging and positively reinforcing the student with confidence and a calm approach to each student's particular challenges and personality. Surfing builds confidence and our students gain insight into our ocean world while building self esteem and physical ability. This environment creates a wholesome, life changing experience for our surf students!
Our surf students often join us for more than one week per summer, and return summer after summer to build their surf skills. One of my most important functions as a surf instructor, teacher and a coach: I recommend the appropriate surfboard and wetsuit (if necessary) for my students, and I accompany my surf students to surf shops and surfboard shaping factories to select the best equipment for each student. No other surf school or surf camp in Wrightsville Beach does this, and I make this a priority. I consider this match of student to surfboard to be an essential part of the student's success!
The Future of Crystal South Surf Camp
New this summer 2015, we will be offering overnight surf camps to small groups of girls ages 12 to 14. Activities include surfing, surf skills training (balance, strength, agility, slack line), skateboarding, ukulele and guitar sessions, and Spanish lessons!
Also new in summer 2015 will be an Outer Banks girls' surf trip, ages 12 to 15. More information will be forthcoming on this trip! We have exciting field trips planned for this trip, in addition to several surf locations.